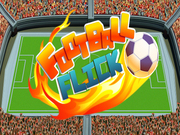 Football Flick Game Online - Play Free Fun Soccer Web Games
Are you ready for soccer? In this great game chose one of 12 football stars and play one on one. Beat them all. Have fun!
12,509 play times
How to Play Football Flick Game
Use the arrows, F for shoot or touch screen.
Some Fun Soccer Facts
Soccer is a very popular ball game that pits the two soccer teams against each other and they each have the goal to score more goals than their opponent and thus win the game. The playing time of a soccer game is usually two times 45 minutes (without overtime and without any extra time). However, there are soccer games, where the playing time is shorter. A team is usually made up of eleven players, with one player being the goalkeeper and ten outfield players. The ball, also called soccer ball. should be played with the feet as well as with other parts of the body without the use of the hands and arms. Only the goalkeeper may touch the ball with his arms and hands in his own penalty area. The sports game of soccer originated in the second half of the 19th century in Great Britain / England and spread all over continental Europe as well as in other continents from the end of the 19th century and is now considered the world's most popular team sport. Enjoy playing the free online soccer games here at SportGames247.com!
The world footballer of the 20th century
Pele's real name is Edison Arantes do Nascimento. Pele is one of the most successful soccer players in the world as well as today's sports minister of his country. The star was named the world footballer of the 20th century by FIFA and the IOC voted him sportsman of the century. The now 72-year-old grew up in poverty. His father was a soccer player, his mother a laundress. In order to keep the family afloat financially, little Pele worked in his father's roadside shop. Today Pele is called "O Rei", which translates to "the king". The name "Pele" comes from "Bilé". This is what the keeper of his favorite team was called in Brazil.