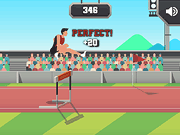 Hurdle Run Game Online - Play Fun Track and Field Games
Hurdle Run is an endless runner game is a game that never ends so long as you maintain your ability to run. You're going to have to jump over these randomly placed hurdles if you wish to keep running. The sky is the limit in this game if you are able to make it all the way all of the time. You will need to run, jump, run and keep going. Have fun!
11,074 play times
How to Play Hurdle Run Game
Use your mouse or touch the screen to play this free online game.
Who is the best Hurdle Runner of all time?
Edwin Moses was a truly remarkable hurdler who completely dominated his event for a decade. In Montreal in 1976, Moses won the 400m hurdles in world record time. Eight years later in Los Angeles, he won a second gold medal. Between September 1977 and June 1987, Moses won 122 consecutive races.