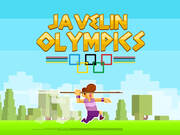 Javelin Olympics Game Online - Play Fun Track and Field Games
Practice your spear throwing skills. Be the athlete you always wanted. How far can you throw? If you're athletic or not, this is the web game for you. Have fun!
10,334 play times
How to Play Javelin Olympics Game
Throw the spear as far as possible. Enjoy an Interactive tutorial. This game is easy to learn, but hard to master. Unlimited re-play ability.
Javelin throw at the Olympics
The javelin throw at the Summer Olympics is one of four track and field throwing events held at the multi-sport event. The men's javelin throw has been present on the Olympic athletics programme since 1908, being the last of the current throwing events to feature at the Olympics after the shot put, discus throw and hammer throw. The women's event was first contested at the 1932 Olympics, becoming the second women's throws event after the discus in 1928. Legendary Czech athlete Jan Zelezny, a three-time world and Olympic champion, holds the men's javelin throw world record, courtesy a massive 98.48m throw he registered in 1996 during an athletics meet in Germany. The athlete must hold the javelin by its corded grip with his or her little finger closest to the tip of the implement. The men's javelin must weigh at least 800g and be 2.6m-2.7m long while the women's javelin must weigh 600g and be 2.2m-2.3m long.