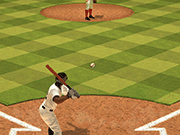 Baseball Pro Game Online - Play Free Fun Baseball Web Games
Make as many home runs as possible in this addicting baseball game, which you can play on mobile as well. Try to time your shot as much as possible and achieve the highest score. Have fun!
13,896 play times
How to Play Baseball Pro Game
Use your mouse or touch the screen to play.
Barry Bonds is one of the best Homerun Hitters
Barry Lamar Bonds is an American former professional baseball left fielder who played 22 seasons in Major League Baseball with the Pittsburgh Pirates and San Francisco Giants. According to funtrivia.com with 762 career home runs and and 73 home runs in a season Barry Bonds is one of the best Homerun hitters major league baseaball have ever seen. Barry Bonds has the most intentional walks (688) in baseball history by a hilariously wide margin. From 2001-2004, Barry Bonds played in 573 games and reached base in 539 of them. Barry Bonds is the greatest baseball-reference player of all time.
Homerun Derby Fun Facts
According to mlb.com the Home Run Derby is an annual home run hitting contest in Major League Baseball customarily held the day before the MLB All-Star Game, which places the contest on a Monday in July. Since the inaugural derby in 1985, the event has seen several rule changes, evolving from a short outs-based competition, to multiple rounds, and eventually a bracket-style timed event. Some notable performances in the Derby include Bobby Abreu in 2005, who won the Derby with a then-record 41 homers, including a then-record 24 in the first round. The first-round record was broken in 2008 by Josh Hamilton, who hit 28 home runs. Though Hamilton's performance was notable for the length of his home runs, he ultimately lost to Justin Morneau in a brief final round. The overall record was broken in 2016 by Giancarlo Stanton, who finished with a total of 61 home runs, defeating Todd Frazier in the final round.