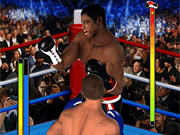 Ultimate Boxing Game Online - Play Free Fun Boxing Web Games
Are you ready to rumble? Ultimate Boxing is one our most popular boxing games. This free online game is a fantastic boxing simulator and for any sports fan, you will find this game addictive. Ultimate Boxing offers a complete boxing experience in which you can do different punches, including a jab and block the attacks. Choose your player, sleeve up your boxing gloves and get in the ring to face your opponent and fight as your life depends on it. Have fun!
10,818 play times
How to Play Ultimate Boxing Game
The controls are straightforward. You just use your mouse and left-click buttons in various motions to perform devastating haymakers, uppercuts and jabs. Use a deadly combination of punches to knock out your enemy, but don't forget to guard and block too. As you progress you will fight a variety of different opponents as your rank increases.
Fun Boxing Facts for Kids
There are many fun facts about boxing that kids find interesting. We went online, surfed the Internet and dug up a few these facts from websites such as PBS Kids and Kidz Search. If you think boxing is about hurting or beating someone up, then you are wrong. It is the purest of all sport, it isa lot more disciplined. Boxers learn to move around the ring with speed and grace, and to avoid or deliver punches. Mental sharpness and strategy are as important as speed and strength, and good boxers use their brains as much as they use their gloved fists. Boxing as a sport dates back to ancient Greeks who made it part of Olympic games as early as 688 BC. Boxing is one of the world's oldest combat sports. There are a few different ways to win in boxing. One is by a way of a knockout, which is when a fighter is knocked to the ground and cannot get back up within ten seconds. Another way is by a technical knockout, which is when the fighter can not continue fighting or the referee stops the fight. Another possibility is winning on points, which a boxer gets by outboxing his or her opponent by hitting the opponent more often, harder, and more accurately.