Cricket Champions Cup Game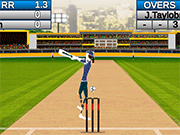 Cricket Champions Cup Game Online - Play Free Fun Cricket Web Games
Cricket Champions Cup is a sport cricket simulation arcade game with 2D game art animations. Following the cricket rules, you are supposed to hit the ball without catching by opponent members at as many rounds as you can. Glad you will always win the match. Have fun!
10,839 play times
How to Play Cricket Champions Cup Game
Tap to play. Hit the ball without catching by opponent members at as many rounds as you can.
Why you should play Cricket
Many people thinks that cricket is the greatest sport in the world, and there are many reasons why you should play Cricket. It is a gentle sport, a game of quiet dignity. A sport from a more refined and civilized age with moments of high drama. You can do the crossword while watching it. Or indeed, playing it. The rules of the game are so easy to understand they can be written on a tea towel.
India–Pakistan Cricket Rivalry
Two of the world's most famous cricket rivals. The India–Pakistan cricket rivalry is one of the most extreme and intensified sports rivalries in the world. The arch-rival relations between the two nations, resulting from the extensive communal violence and conflict that marked the Partition of British India into India and Pakistan in 1947 and the subsequent Kashmir conflict, laid the foundations for the emergence of an intense sporting rivalry between the two nations who had otherwise shared a common cricketing heritage. Players in both teams routinely face intense pressure to win, and are threatened by extreme reactions in defeat. Extreme fan reactions to defeats in key matches such as in the ICC Cricket World Cup have been recorded, with a limited degree of violence and public disturbances. At the same time, India-Pakistan cricket matches have also offered opportunities for cricket diplomacy as a means to improve relations between the two countries by allowing heads of state to exchange visits and cricket followers from either country to travel to the other to watch the matches. But the rivalry had finally grown so much that Indian Government issued a bill that stated that Indian players will not be going to Pakistan for safety reasons. India-Pakistan cricket matches are some of the most watched television broadcasts in both countries.