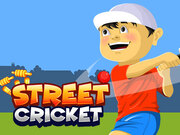 Street Cricket Game Online - Play Free Fun Cricket Web Games
Street Cricket game that will bring back your childhood memories. Street Cricket is a casual game with cute graphics and sounds. In each round, you get a target, ball, and wickets to start with. As soon the ball reaches you just tap to hit it. With the power bar, you can take the shots higher. More high power bar means more runs. Just start tapping and hit the shots. It's a Cricket time. So, grab your bat and start hitting sixes. Have fun!
11,105 play times
How to Play Street Cricket Game
Tap to hit the shot. To play street cricket game all you need is a good reaction. There are two phases in total. First charge muscle strength of the next swing with a scale on the left. Right after that Timmy throws the ball at the player. Time it well to hit with just the end of a bat. All is good - ball is flying out of reach and the user gets a homerun!