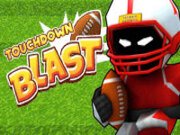 Touchdown Blast Game Online - Play Free Fun Football Web Games
Virtual recreations of real-world activities often fail to capture their appeal. The idea of designing a 100% accurate realistic simulator is an admirable one. However, the results generally leave a lot to be desired. Take team sports, for example. As it turns out, there is too much uneventful downtime involved. Bringing that to the computer screens is absolutely unnecessary. Instead, it makes sense to discard the excess and leave only the amusing parts in. Touchdown Blast is an online casual runner that does exactly that. Take on the role of a mighty running back rushing towards the goal. Evade the opponents' defenses and reach the destination in an epic blaze of glory. Complete numerous hand-crafted missions and unlock cool upgrades for every victory. Have fun!
10,914 play times
How to Play Touchdown Blast Game
Use your keyboard and mouse to play. The objective is to cross the field without getting blocked by the fullbacks. The character moves automatically. Click or tap the onscreen icons to adjust the course. Turn left and right depending on where the rivals are coming from. When the collision is unavoidable, use the tackling ability to overpower enemies. Be sure to collect all three stars to receive the highest possible rank. Aim for the zone where the grass has a bluish tint. Drop the pigskin there to score and proceed to the next stage. Interactive alternatives to real sporting events are relatively scarce and rarely impressive. Most top-tier options cost a lot without offering much in return. Meanwhile, Touchdown Blast is free and delivers a polished and highly stimulating experience. Launch it on this site through any modern browser without installation. Be persistent, demonstrate mind-blowing feats of athleticism and win every match.
Touchdown Blast is a Definitive American Football Game
People tend to get very excited about the Superbowl. They have great expectations for their favorite clubs and their top stars. Tensions grow higher as the season progresses. And sometimes, winning the entire championship depends on a singular moment. When that happens, seconds feel like minutes, and the audience's emotions reach their peak. This title attempts to reproduce that intensity and sustain it throughout each playthrough. Surprisingly, the developers were actually able to pull that off. This is one of the greatest additions to our website due to the following qualities:
Fast-paced, engaging, and challenging gameplay suitable for any age
Dozens of memorable levels with unique layouts and obstacles
Colorful 2D visuals that provide a comfortable top-down overview of the stadium
Intuitive 3-button controls optimized for PC and mobile devices
A rocking soundtrack that creates a feisty get-things-done type of mood
The process is fairly simple to learn even for beginners. Mastering it, on the other hand, requires lightning-fast reflexes and fine motor skills. But finally accomplishing the task feels incredibly rewarding.