Europe Soccer Cup 2021 Game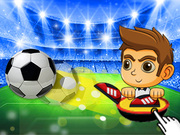 Europe Soccer Cup 2021 Game Online - Play Free Fun Soccer Web Games
Twenty four best soccer teams in Europe are competing to get the first place in the 2020 Europe Soccer Cup, Do you think you can choose a team and do it? Have fun!
12,189 play times
How to Play Europe Soccer Cup 2021 Game
Use your mouse or touch the screen to play.
The Best Headers in European Soccer
The most best headers in soccer usually have a couple of things that separate them from the rest. These guys are usually in the right place at the right time. They have great jumping abilities as well as power and timing to get things right in the air. Miroslav Klose, Jan Koller, Alan Shearer, John Terry, and John Carew are all among the best Euro soccer headers off all times:
Remember the 2002 World Cup? Yeah, well, all of Miroslav Klose's goals in that tournament were headers. He's had a knack for doing that throughout his career.
I don't think it would be too much of a stretch to say that Jan Koller probably scored over 90 percent of his goals with headers. That would make him pretty lethal and prolific.
Alan Shearer's strong presence in the air was just a part of his attacking arsenal. It was a very lethal piece, though.
John Terry is another defender who is a constant aerial threat on attacking set-pieces. He uses his strength and power to get himself on the ball and hits the target more often than not.
John Carew's strength and height are a big part of his ability to dominate players in the air.