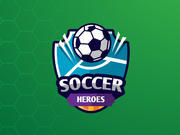 Soccer Heroes Game Online - Play Free Fun Soccer Web Games
Show all your skill in this football game. Maybe you have a talent like your soccer heroes: Wayne Rooney, Cristiano Ronaldo or John Terry? In this web game you get to choose your dream team and get into the fast-paced football action where you control um jogador. You can score goals with just a swipe of your finger or mouse. You are in charge of both the offense and the defense in this game, so you have to be quick to gain the upper hand. Have fun!
16,347 play times
How to Play Soccer Heroes Game
Touch and drag your player to move. Use your player to attack and defend the goal.
Who is Wayne Rooney?
According to WikiPediaWayne Mark Rooney is an English professional soccer player who plays for and captains both Manchester United and the England national soccer team. He has played much of his career as a forward, but he has also been used in various midfield roles. He has won the England Player of the Year award three times, in 2008, 2009 and 2014. With 51 goals in 109 international caps, Wayne Rooney is England's all-time record goalscorer and fourth most-capped player.Too much headbutting can sometimes lead to some serious head injuries, and Wayne is familiar with those. According to BBC Sports sometimes he even post pictures of his head injuries on social media, as was the case back in 2013. Back then one of his ream mates kicked him in the head leaving a nasty cut, and Wayne had to pull out two matches for the England squad. The injury itself was described as something out of a horror film.
Cristiano Ronaldo's trademark is the Freekick
Who doesn't love a sweet free-kick goal? It's one of the most beautiful aspects of the soccer game. According to The Sportster Cristiano Ronaldo free kick speed is around 130 kmph. He possesses blistering speed, stunning footwork, incredible strength and a fierce shot which ensures every goalkeeper has slightly shaky legs each time he steps up to take one of his trademark free kicks. It has become a famous image in modern soccer; Ronaldo standing over the ball with a free kick from around 30 yards out. You can understand why those in the wall are nervously trying to cover any sensitive areas and why the keeper has to be on full alert, as his free kick speed is around 130 kmph, or 3.1 metres per second. This is over four times faster than Apollo 11's launch speed, so if he gets it on target then there is a very good chance that it will smash into the back of the net and leave the keeper wondering what happened.
John Terry is Strong and Fast
Every player in a team has a reason to be there; they all work as one unit in order to overcome their opponents. Usually a lot of emphasis is put on the strikers and forwards and very little is said about the defenders. However, there are some defenders who have risen above the rest in proving that they can be formidable and contribute more towards winning a game than even some of the strikers. In as much as strikers are tasked with scoring goals, defenders are tasked with keeping the opposing strikers from scoring any goals against them. One of the most famous defender is John Terry. He is a defender who was strong and fast, and it was nearly impossible to get past him. John Terry loved scoring from corners and in this game that is exactly what you are supposed to do. Scoring a corner is about knowing where to place the ball, when you are faced with several defenders, and in this game, you should do just that. As the ball comes in from the corner kick, find a place to click with the mouse and the ball will go there. If you are fast and accurate, you will score several goals. The position of the mouse along the flight path of the ball will determine how you score. You should also use the left mouse button to drag the mouse to determine the angle of the header.
Tags: Soccer