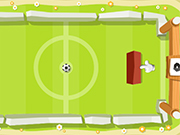 Ping Pong Goal Game Online - Play Fun Table Tennis Web Games
Ping Pong Goal is a casual football/soccer game mixed with table tennis elements, where the player must compete against the opponent to secure a match win. Perfect for a quick gaming session. Easy to pick and perfect for all ages, as you must tap on the paddle and just shoot the ball. Have fun!
11,012 play times
How to Play Ping Pong Goal Game
Simply drag the player paddle up/down to hit the ball and try to score. The first one to score 5 goals wins the game.
Is Table Tennis a Game for Nerds and Geeks
The general public is not very responsive to the game of Table Tennis; they believe that it is a game for nerds and geeks who do not have the muscular ability to engage in sports that require physical exertion. They believe that it is a game for softies. However, table tennis is a game that requires great skill, and also requires muscular training. You cannot have the kind of speed that is required if you do not train physically. Ping pong is a game that requires you to think very fast; this may be where the nerdy aspect may come in. it also requires strategy since it will help you in duping your opponent; you make him or her think that you are placing your shot to the right and then place to the left. Ping pong is a game that will need reflexes like those of a cobra; you have to move very fast so you can win any shots. You will know if you have the temerity that is required to play the Power Pong flash game, if you can win a few shots out of every set. Keep at the free online Power Pong game until you can beat the CPU for a couple of sets. This also enhances your table tennis game play in real life.