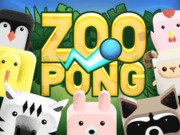 Zoo Pong Game Online - Play Fun Table Tennis Web Games
While the Zoo is closed, the Animals organized a competition to keep them entertained! Zoo Pong is a twist of the classic Pong game. Play through challenging levels with exciting power-ups with your favorite Animals. Have fun!
11,187 play times
How to Play Zoo Pong Game
Drag the Animal left and right. Hit the ball with the Animal to bounce the ball back. Score 3 goals before the opponents to advance the levels. Collect coins and unlock more Animals to play with!
The first Zoo
Zoo is short for zoological park or zoological garden, and also called a menagerie. It is a facility in which animals are confined within enclosures, displayed to the public, and in which they may also be bred. The abbreviation Zoo was first used of the London Zoological Gardens, which opened for scientific study in 1828 and to the public in 1847. The number of major animal collections open to the public around the world now exceeds 1,000, around 80 percent of them in cities. The predecessor of the zoological garden is the menagerie, which has a long history from the ancient world to modern times. The oldest known zoological collection was revealed during excavations at Hierakonpolis, Egypt in 2009, of a ca. 3500 B.C. menagerie. The exotic animals included hippos, elephants, baboons and wildcats.
Tags: AnimalsPongZooZoological