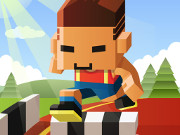 Hurdle Rush Game Online - Play Fun Track and Field Games
Run and jump the hurdles as much as possible and get the highest score of the many hurdles that you can jump. Have fun!
10,373 play times
How to Play Hurdle Rush Game
On a desktop use left and right arrows to move sideways and use spacebar to jump. Touch the control spots on the screen if you have a touch screen device.