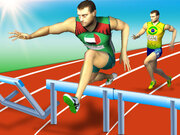 Hurdles Heroes Game Online - Play Fun Track and Field Games
Running heroes continue with the new tournament. You are going to races in different parts of the world for the Hurdles tournament. Accelerate by jumping the hurdles at the last moment! Compete on a total of 7 continents and be the winner of the tournament by finishing first in all of them. You can participate in tournaments as 1 Player or 2 Player. Let the races begin!
10,375 play times
How to Play Hurdles Heroes Game
Player 1: W. Player 2: Up arrow.
When I hear Hurdles the name Lolo Jones come to Mind
Lolo Jones is an American hurdler and bobsledder who specializes in the 60-meter and 100-meter hurdles. At the 2008 Beijing Olympics, Jones was favored to win the 100-meter hurdles. In the final, she was pulling away from the pack when she clipped the 9th hurdle (of 10) and stumbled, breaking stride to drop her back to a 7th-place finish. Teammate Dawn Harper surged through to win gold. Jones was seen pounding the ground close to tears, trying to comprehend what had happened. "You hit a hurdle about twice a year where it affects your race. It's just a shame that it happened on the biggest race of my life." Jones was later seen crying to herself in a hallway, mouthing, "why, why, why?". During her career she won three NCAA titles and garnered 11 All-American honors while at Louisiana State University. She won indoor national titles in 2007, 2008, and 2009 in the 60-meter hurdles, with gold medals at the World Indoor Championship in 2008 and 2010. At the London Olympics on August 6, Jones won her heat in the 100-meter hurdles with a time of 12.68 s. On August 7, she placed third in the semi-finals of the 100-meter hurdles, gaining progression to the finals. In the finals later that day Jones finished fourth with a time of 12.58 s. Jones also competes as a brakewoman on the U.S. national bobsled team. She won a gold medal in the mixed team event at the 2013 World Championships. She represented the U.S. at the 2014 Winter Olympics, making her one of the few athletes who has competed in both the Summer and Winter Olympic Games. She is a devout Christian, and often prays before competitions and talks about her faith on Twitter.