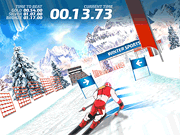 Slalom Hero Game Online - Play Free Fun Winter Sports Games
Slalom Hero is an exhilarating html5 ski race in where you are going to ski down a winding course marked by arrow poles. You need to get in between the arrows to maintain your momentum and for added bonus points. Collect some coins on your way for added cash which you can use in purchasing upgrades for your character. In the beginning of the game you'll choose between two characters and each character has a different set range of skills. You have three levels that you need to finish and according to your performance you can either get the bronze, silver and gold! There are three mode of difficulties, the beginner, normal and the expert mode. You can start in the beginner mode and as you improve your character by increasing his or her skills, you can now increase your difficulty. In this way it will give you that winning edge in every level of the game. Play now and see if you can conquer the snowy peaks and be the Slalom Hero!
11,167 play times
How to Play Slalom Hero Game
Use the arrow keys to move. P key to pause the game or access the menus.
Ingemar Stenmark is the Greatest Slalom Hero
In 1974 Stenmark, at the age of seventeen, joined the European racing circuit. In his first World Cup event in March of 1974, Stenmark placed second in the slalom. On December 17, 1974 he earned his first World Cup victory on the slalom course at Madonna di Campiglio, Italy. He was soon challenging Italy's Gustavo Thoeni for the World Cup title but was edged out by Thoeni, 250 points to 245 points. The following season Stenmark surpassed Thoeni to win his first overall World Cup in 1976, thus beginning his decade-long reign of dominance in the slalom and giant slalom. He was heralded as a hero in Sweden, and Sweden's King Carl XVI Gustaf received Stenmark in a private audience and awarded him with a special gold medal, the highest honor bestowed on a Swedish citizen. Ingemar Stenmark won a record 86 World Cup racesduring his 15-year career. He dominated the slalom and giant slalom courses, winning titles in both events for seven consecutive years, from 1975 to 1981. A three-time winner of the overall World Cup, Stenmark also has two Olympic and three World Championship gold medals. Known as the King of Slalom because of his unmatched technical skiing that took him through the gates with very little upper body movement, he was also known as the Silent Swede because of his famously stoic and taciturn personality.