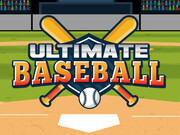 Ultimate Baseball Game Online - Play Free Fun Baseball Web Games
Swing high, middle or low to hit the ball. Find your sweet spot and perfect timing. Hit correctly and score a baseball home run! A simple arcade style baseball game for the fans. The online game features a baseball stadium theme, which is great for brand exposure. The game gets more challenging as you score more home runs. Overall this is a great game for fans of Tap Baseball and MLB. Have fun!
14,183 play times
How to Play Ultimate Baseball Game
Tap the screen or use your mouse. Simple controls to hit high, medium or low. Find your sweet spot and perfect timing. Hit correctly and score a baseball home run.
The Greatest Baseball Games
Over the years, video games have evolved from simple pixels to hyper-realistic displays. According to BleacherReport.com baseball games have done much the same, going from a white pixel that was probably a ball to the games on the Xbox 360 and Playstation 3. There have been some great baseball games during the past 30-plus years, whether it's due to great realism, a certain charm or just the way they were made. In 1978, we got our first real taste of baseball video games. Atari came out with Home Run, and the Magnavox Odyssey 2 came out with Baseball. Of the two Baseball was definitely the best as you could shift the outfield, the pixels actually looked like people and the game was played realistically with a ball-strike count and nine innings. While the NES was gearing up with a slew of new baseball games, there was a void on the market in the mid-1980s. As a result, computer systems jumped in to fill that void with Hardball!, which was released on the Apple II, Commodore 64 and many other systems. The series lasted on the computer until 1999, and the original in particular got rave reviews. It helps that the game was the first to have play-by-play commentary, which was done by Al Michaels, and had such detailed rosters that you could even send players to the minor leagues. Something about the NES made it the ideal platform to create great baseball games, as they gave us another one in late 1989 by the name of Baseball Stars. The game-play itself was simply nice, but what set it apart was its simulation and create modes. It was the first game to let you create your own team and player, something games even 10 years later struggled with, and it could simulate an entire season, a staple of gaming nowadays.
Tags: Baseball