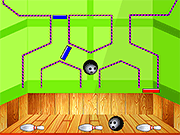 Bowling Ball Game Online - Play Free Fun Bowling Html5 Games
Play the three Bowling Balls and knock down the three pins to win. If you get it you will win a gold medal. If you win gold medal, then you will unlock a new Bowling Ball to play. Have fun!
11,534 play times
How to Play Bowling Ball Game
Use mouse or tap the screen to play.
Did you know that Curling is related to bowling
The sport of curling is related to bowling and very similar in certain aspects. In curling, the player has to move a heavy stone across a long alley, which has an ice surface, to the finish line. But unlike bowling, there are no pins waiting for the stone. Rather, it is all about place the stone as close as possible to the center. In case other stones are better placed, you can shot them to the side in curling and better place your own stone. The sport is a very ancient pastime, which was played in Scandinavia in the 13th Century already. At that time, of course, one could only pursue this sport in the winter. Today, there are world championships in curling – curling has even been an Olympic sport since 1998.