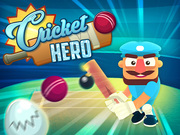 Cricket Hero Game Online - Play Free Fun Cricket Web Games
A simple game where you hit the balls and avoid bombs and eggs. It was inspired by a traditional British pastime invented in the 16th century. Despite the noble origins, this is not a serious interpretation. Take control of a batter fighting for victory in the world finals. Watch out for unrelated objects thrown at you by members of the audience. Focus on hitting the balls and avoid eggs, bombs, and other harmful objects. Are you ready to test your reflexes and improve your reaction speed? Have fun!
10,379 play times
How to Play Cricket Hero Game
Left-click when a ball reaches the transparent circle in the center of the screen. If you rush or linger for too long, the batter will miss. Make three mistakes, and the game will be over. Your score will be recorded – try to beat it in the next round. The gameplay becomes more difficult as you continue. After a while, an additional circle will appear. Click either on the left or the right side to hit from the appropriate position. If someone throws a different object at you, ignore it. Hitting an egg will break it open and temporarily impair your vision.
The Cricket Hero game is Tough but Fair
After reading the description, you might conclude that this title is meant for casual gamers. While the controls are easy to figure out, the mechanics are anything but trivial. This is a rare combination of accessibility and difficulty. First, you have to identify if whatever is flying at you is a ball. Assuming the correct position to strike also takes a moment. Timing your hits is challenging. Incoming pitches vary in speed and style. All that contributes to the overall intensity and keeps you on your toes. You're bound to make a mistake, the question is how long can you avoid it.