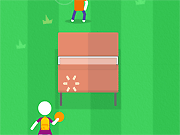 Stickman Pong Game Online - Play Fun Table Tennis Web Games
Here you get to enjoy a simple but challenging free online ping pong game against a CPU opponent. Stickman Pong is an amazing ping pong game, if you like sports, come here and try it. In this free online game you need to choose a character at first, then you can start your competition. Win every match to show your talent. Have fun!
11,168 play times
How to Play Stickman Pong Game
Touch the screen or use the mouse to play.
Table Tennis Actually Requires Athletic Ability
Many people can attest to the fact that Table Tennis is sometimes taken as a wimpy sport which is played in the parlor just to pass some time, but it is a fun game that requires athletic ability. When you look at synchronized swimming, it looks like a girlie sport where dance is done in the water. However, you do not know just how much physical training the swimmers go through. They have to be fit in order to keep the formation from breaking apart. It is also the same argument for Table Tennis; the players have to be great athletes in order to get to a ball that is traveling at tremendous speeds. You cannot say that they do not train physically, because you cannot move that fast if you spend all your time swigging booze and laying on the couch watching TV.