Tennis Champions 2020 Game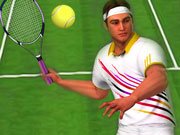 Tennis Champions 2020 Game Online - Play Free Fun Tennis Web Games
Get ready to embark on the most thrilling tennis journey of your life with Tennis Champions 2020! Brace yourself for an exhilarating whirlwind of fun that's perfect for kids and kids-at-heart alike. Step onto the virtual court, and let the magic of tennis come alive as you experience the game firsthand. Tennis Champions 2020 is not just any tennis game; it's the real deal, complete with all the official rules and intensity you'd find in a championship tournament. With three heart-pounding modes—World Tour, Quick Play, and Practice Sets—prepare to be swept away into the world of professional tennis like never before. The glory, the competition, the sheer excitement – it's all here, waiting for you to make your mark as a true Tennis Champion!
10,456 play times
How to Play Tennis Champions 2020 Game
Use mouse to play the game. Different opponent countries and 3 mode to play. It's a one click game.
Fun Tennis Tournament Facts
Tennis tournaments are a treasure trove of mind-boggling and exhilarating tidbits that infuse the sport with an irresistible charm. Can you believe that at Wimbledon, the pinnacle of tennis excellence, players are bound by an age-old dress code that demands they drape themselves in pristine all-white attire, an emblem of tradition and elegance? Meanwhile, the French Open unfolds on clay courts, an earthy battleground that sets it apart in the Grand Slam pantheon. And don't even get started on the Australian Open, where the blistering hard court surfaces sizzle under the blazing Aussie sun, creating a cauldron of sweltering showdowns. For an electrifying change of pace, the US Open cranks up the excitement with its thrilling tiebreaks in the final set, a pulse-pounding grand finale like no other. As if that weren't enough, these tournaments tantalize your taste buds with their signature fare; Wimbledon's strawberries and cream dance on the palate, while the US Open serves up a global gastronomic adventure that perfectly complements the international flair of the matches. It's not just tennis; it's a captivating tapestry of traditions, quirks, and intriguing nuggets that take the sport to exhilarating heights.