Tennis Champions 2020 Game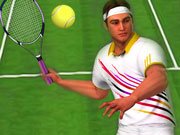 Tennis Champions 2020 Game Online - Play Free Fun Tennis Web Games
Playing Tennis Champions 2020 will surely be a lot of fun for you and other children. In this way, you can quickly see for yourself what how to actually play this sport. Tennis Champions 2020 is the real tennis game featured with all official rules as in real tennis championship tournaments. It has 3 modes World Tour, Quick Play and practice sets. Have fun!
10,291 play times
How to Play Tennis Champions 2020 Game
Use mouse to play the game. Different opponent countries and 3 mode to play. It's a one click game.
Fun Tennis Tournament Facts
In tennis, there are not only individual tournaments but also highly regarded team tournaments. Here, the Davis Cup is especially mentioned, which gets played out every year. It dates back from 1899 and to the player Dwight Filley Davis, who developed a competition concept for a nations tournament in tennis back then. About a hundred nations participate in the Davis Cup each year. A round consists of four singles and a double. The games at the Davis Cup are considered to be very demanding and last for three winning sets. The Davis Cup is just for men. For women, there is a similar tournament with the Fed Cup.