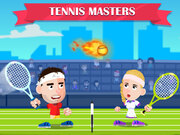 Tennis Masters Game Online - Play Free Fun Tennis Web Games
Embark on an epic journey with Tennis Masters, and get ready for a whirlwind of exhilaration that's perfect for kids of all ages! Brace yourself for a pulse-pounding adventure that's going to unveil the secrets of tennis right before your very eyes. Transform into a tennis maestro, ready to unleash a whirlwind of talent, strategy, and pure determination to conquer your rivals in the electrifying world of Tennis Masters. Will you choose to test your mettle against the relentless computer AI, or challenge a friend in the fierce 2-player mode? Along the way, gather powerful and zany power-ups that'll turn the game on its head! Remember the age-old adage: "Practice makes perfect," and now, it's your time to prove it on the court. Have Fun!
10,476 play times
How to Play Tennis Masters Game
Player 1 Controls Arrow keys to move X to hit and Z to smash. Player 2 Controls WASD to move L to hit and K to smash.
Fun Facts About Tennis Tournaments
Tennis tournaments are full of fascinating and fun facts that add to the excitement of the sport. Did you know that Wimbledon, one of the most prestigious tennis tournaments, has a strict dress code requiring players to wear all-white attire? Or that the French Open is played on clay courts, making it unique among the Grand Slam events? In contrast, the Australian Open features hard court surfaces, which can reach scorching temperatures in the Australian summer. The US Open is renowned for its electric atmosphere and is the only Grand Slam tournament that uses tiebreaks in the final set to determine a winner. Tennis tournaments also have their signature foods; for instance, Wimbledon is famous for strawberries and cream, while the US Open offers a variety of international cuisines to enjoy during the matches. These tidbits of information make tennis tournaments not only a showcase of top-level tennis but also a source of interesting traditions and quirks that make the sport even more enjoyable to follow.