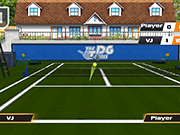 Tennis Pro 3D Game Online - Play Free Fun Tennis Web Games
Play the most realistic game of Tennis now available in 3D. This fun online game puts you directly in the Tennis court for real action from the opposite end. This sports game is packed with real life animations, effects and simulates the game excellently. The unique and fantastic controls along with awesome graphics and design makes this game a must have. Have fun!
10,488 play times
How to Play Tennis Pro 3D Game
Use the mouse or touch the screen to play. Drag, aim and hit the ball.
Conditioning is very important for Tennis players
Tennis players need a lot of conditioning; this is a physically demanding game, and it is important that the players are very fit. One of the exercises that are good for tennis players is the Burpee. This is an exercise that is even popular with the military and martial arts. It works your cardio and also works every tissue in the body. A burpee is performed by squatting until your buttocks hit your ankles, and placing your hands in front of you. Then you lunge into the pushup position. When you are there engage your core without sinking your hips; then go back to the squatting position, before lunging straight up in the air. Keep repeating this exercise for a few repetitions at a time. This is an exercise that will have your blood racing and this is great for your heart too. Tennis players are supposed to include this exercise in their exercise regimes so they can run around the court without tiring very much. However, you do not have to go out into the field to work up a sweat in order to enjoy a game of tennis; you can do that very comfortably by playing this free online tennis game and beating a whole lot of opponents.