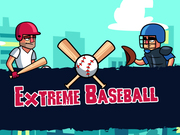 Extreme Baseball Game Online - Play Free Fun Baseball Web Games
Aim and release your baseball to knock out your opponents. Bounce the ball off the walls to cleverly knock out multiple enemies in one attempt. Collect baseball cards to increase your score. Interact with multiple elements such as glass, wood boxes, TNTs, buttons, moving platforms and more. Fans of Stupid Zombies will appreciate this addicting baseball game. Have fun!
12,002 play times
How to Play Extreme Baseball Game
Aim and release your baseball to knock out your opponents. Watch the tutorial to learn the ropes.
Great Catchers in Major League Baseball History
According to thoughtco.com catchers have perhaps the toughest jobs on the diamond, a grueling position that requires durability, a great arm, the mind to call a game and, of course, the ability to hit always helps, too. Gabby Hartnett that played the Chicago Cubs (1922-40), New York Giants (1941) was fine defensive catcher and hitter, he's considered perhaps the greatest of the first half of the 20th century. Yogi Berra played for New York Yankees (1946-1963) and New York Mets (1965) was probably the best one of them all. He wasn't quite the defensive equivalent of Johnny Bench, but he was probably even better as a pure hitter. Johnny Bench that played for Cincinnati Reds (1967-83) was perhaps the central figure in the Big Red Machine teams of the 1970s, he was a combination of power at the plate and defensive ability behind it that was unprecedented. Mickey Cochrane played for Philadelphia Athletics (1925-33), Detroit Tigers (1934-37) was a two-time AL MVP with a career average of .320, he was a pillar in the lineup of some great Philadelphia teams in the 1920s and 1930s, winning pennants in three consecutive seasons.
Tags: Baseball