King Bowling Defense Game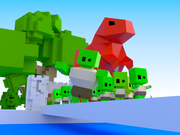 King Bowling Defense Game Online - Play Free Fun Bowling Html5 Games
King Bowling Defense is a fun game. It just likes bowling. Instead of rolling the ball, you use a cannon to defend your realm and protect yourself from waves of zombies. This cannon just push them to the water. So basically, you prevent zombies from crossing the bridge and stepping into your castle. Defend your castle and have fun. Tons of levels as tons of challenges await you there. After every 2 levels, you will deal with the biggest battle against a huge boss. Don't worry. Your cannon shoot unlimitedly, so just aim and attack until no zombie appears on the bridge. You have 9 lives in each level. Each zombie touches you, you lose a life. So make sure you shoot at the closest zombies first. Prioritize shooting the nearest zombies first is the main point to live longer. The environment will change after 3 levels. You also face more challenges as you level. The moving speed of those zombies increases and more zombies will appear while you have only one cannon. However, you have the potential to defeat them. By defeating all bosses, you can unlock 10 cannon skins. It doesn't bring something special to your cannon but it makes your weapon look great and cool. Have fun!
10,745 play times
How to Play King Bowling Defense Game
Use mouse to aim and shoot.