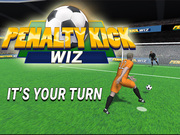 Penalty Kick Wiz Game Online - Play Free Fun Soccer Web Games
It's time for some Penalty Fever, again! Put on your soccer boots and test your skills in shooting penalties. Choose your favorite country and win the World Cup with them. Check out the player's emotions after scoring goal or after missing. From the creators of the famous Penalty Shooters comes this beautiful 3d game. It's easy to play, it's easy to even become a master at it. Guide your team to the World cup title in this frantic penalty shoot-out challenge. Have fun!
19,747 play times
How to Play Penalty Kick Wiz Game
To shoot: press anywhere and hold until the target is where you want to shoot. Then, release. To save: wait to see opponent's target, then tap on it. It's so easy to play! Football is a simple game, that's why we love it so much.
Penalties are game changers in Soccer
Penalties are game changers and whenever they are awarded they usually put the opposing team one down since most people rarely miss the shots. The players really complain a lot when a penalty is awarded since they know that it is similar to giving the opposing team a lead in the game. Penalties are given when players make foul moves within the goal box. Brining down opponents in a foul manner to stop them from making a score deserves to be punished by those means. However, taking a penalty is not an easy task. You have to read the goalkeeper very well, or else he will save your shot. You have to know which his weak side is. You also have to know how to give him a dummy, and send him in the wring direction. This is a fun game of skill as well as psyche. The goals keeper will be looking keenly at you and at the ball. He will move according to your body language and also the direction of the ball. Most coaches ask goalkeepers not to bother with body language and keep their eyes on the ball, but it is difficult to do so. This is why good strikers will still dummy the goalkeeper making him go grasping at air in the opposite direction.
The Greates Penalty takers in Soccer
Here we will look at some of the best penalty kick takers in the history of world soccer. According to bleacherreport.com the penalty shot is the most nervy of all moments during the course of a given soccer match. Gerd Muller is forever a key cog in German football history. Sometimes apt to try and beat a goalkeeper down the middle, Muller translated his open play success to the penalty stripe on many the occasion. Steven Gerrard, Liverpool legend and England mainstay, can strike a soccer ball with his laces better than or as just as effectively as any footballer in recorded history. Zinedine Zidane's 2006 World Cup final performance will forever be remembered for two actions: His infamous headbutt on Marco Materazzi and his ridiculously cheeky penalty that gave France an early lead, one of the more memorable penalties in soccer history. Alan Shearer's ability from the spot was instrumental in netting a record-setting 260 goals in 434 appearances.