Table Tennis Ultra Maga Tournament Game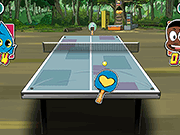 Table Tennis Ultra Maga Tournament Game Online - Play Fun Sports Web Games
Table tennis is about playing a small, light ball over a net to the opponent using a racket. Table Tennis Ultra Mega Tournament is an exciting table tennis tournament with the favorite cartoon characters including Gumball, Jake, Finn, Robin and more! Select quick play for an instant battle against any character you choose or play tournament where your selected character will go through table tennis battle against tournament match ups. Have fun!
10,939 play times
How to Play Table Tennis Ultra Maga Tournament Game
Use your mouse to move the paddle.
Memorable Records in Table Tennis
Even outside of the official medals and trophies, there are memorable records in table tennis time and again. Several of which were made in 1936 in Prague. Here, the team final at the Swaythling Cup between Austria and Romania began on a Sunday at 11 o'clock and ended on the following Wednesday. During the World Cup, also in Prague in 1936, the Poles Ehrlich and the Romanian Paneth fought for a single point for 2 hours and 12 minutes. In the same tournament, a game between a Frenchman and a Romanian was ended by the tournament administrators after 7.5 hours in the fifth set. Quite another record was set in 1993 in the UK with 173 rallies per minute, which means nearly three rallies per second. This ensured that the existing record of 1986 with 170 rallies was replaced within 1 minute.
Tags: TennisTournamentUltra