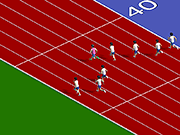 Sprinter Retro Game Online - Play Fun Track and Field Games
Beat all your opponents in the 100 meters sprint. Every next level you are unlocking is getting harder and harder. If you run 100 meters faster then others, you will be the winner. There's a lot of intensity in this game as you are going against a lot of athletes and you really nee to be at your best so you can win the game. It's a game of skill, excitement and where you get to compete against others to win the main prize. It's the type of game experience you want to repeat again and again so you can get better. Let's start running!
10,325 play times
How to Play Sprinter Game
You can play this game with the arrow keys.
The Greatest Olympic Sprinters
US athletes have won the men's Olympic 100 meters title more times than any other country, 16 out of the 28 times that it has been run. US women have also dominated the event winning 9 out of 21 times. Jim Hines, Ronnie Ray Smith and Charles Greene were the first to break the 10-second barrier in the 100 m, all on 20 June 1968, the Night of Speed. Hines also recorded the first legal electronically timed sub-10 second 100 m in winning the 100 metres at the 1968 Olympics. Bob Hayes ran a wind-assisted 9.91 seconds at the 1964 Olympics. You might associate 100m sprint with Carl Lewis, one of the greatest sprinters ever. Who won 10 Olympic medals, including nine gold, and 10 World Championships medals, including eight gold. His career spanned from 1979 to 1996 when he last won an Olympic title and subsequently retired. The greatest sprinter of them all is Usain Bolt. A Jamaican sprinter. Regarded as the fastest human ever timed, he is the first man to hold both the 100 meters and 200 meters world records since fully automatic time became mandatory. He also holds the world record as a part of the 4 × 100 meters relay. He is the reigning World and Olympic champion in these three events. Due to his unprecedented dominance and achievements in the athletic field, he is widely considered the "Greatest sprinter of all time".