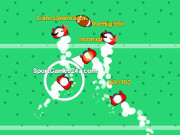 Football Wars Game Online - Play Free Fun Football Web Games
Football Wars is a new IO game designed just for you. Catch ball and run to make a goal, evade from enemy team, they want to push you out. Use keyboard or mouse to control your football character. Collect rank and buy new skins. Good luck and have a nice game!
10,844 play times
How to Play Football Wars Game
Use the mouse, WASD or the arrow keys to play.
Fun Quarterback Facts for Kids
According to NFL.com in modern American football, the quarterback is usually the leader of the offense. The quarterback touches the ball on almost every offensive play, and his successes and failures can have a significant impact on the fortunes of his team. In the NFL, while the starting quarterback has no other responsibility or authority, he may, depending on the league or individual team, have various informal duties, such as participation in pre-game ceremonies, the coin toss, or other events outside the game. If quarterbacks are uncomfortable with the formation the defense is using, they may call an audible change to their play.
The Greatest Quarterbacks in NFL History
According to AthlonSports.com there is no more revered or analyzed position in the NFL than quarterback. Besides all of the statistics that are associated with signal-callers, especially in today's pass-happy game, it's the only position that attributes wins and losses with any regularity. Terry Bradshaw rarely put up phenomenal numbers during his 14 NFL regular seasons as quarterback for the Pittsburgh Steelers. But he did manage to garner three Pro Bowl selections, and he even took home NFL MVP honors in 1978. Bradshaw is best known for his stellar play in the postseason. Brett Favre made his way to Green Bay Packers in 1992 where he would flourish for the next 16 seasons. Tom Brady have one of the most decorated careers in NFL history. The greatest of them all is probably Peyton Manning, which has garnered more accomplishments than any other quarterback in NFL history.
Tags: FootballNflQuarterback